A good website structure makes it easier for users to navigate as well as good for SEO. On the other hand, without a good structure, your website will appear cluttered and difficult to navigate. Google will also find it difficult to distinguish which content is important and which is not. see the article below to create SEO Friendly Website Structure.
What is Website Structure?
Website structure is the arrangement of the important pages on the website. Usually, the structure or architecture of this website will be seen from the main navigation or menu.
A good website structure keeps the various pages on your website connected to each other. That way, visitors can feel a good user experience.
that way visitors can easily find the information they need.
The structure of the website is not only important from the user's point of view. If you need traffic from search engines, it is also important for SEO or Search Engine Optimization. Because, with a good website structure, Google bots will find it easier to browse your website pages. It also affects the ranking of website pages in search engines.
Why is SEO Friendly Website Structure Important?
There are four reasons why you should pay attention to website structure.
Can Affect User Experience (UX)
A good website architecture will greatly affect the user experience of your website visitors. Besides being easy to navigate, visitors will also find it easier to find the content or products they need.
when visitors have a hard time finding the page they are looking for. They will not think long to leave your website.
SEO Friendly Website Structure Can Provide Sitelinks
With a good website structure, you can get site links for websites. A site link is a unique display in Google's search results. This view shows the homepage link with important pages below it.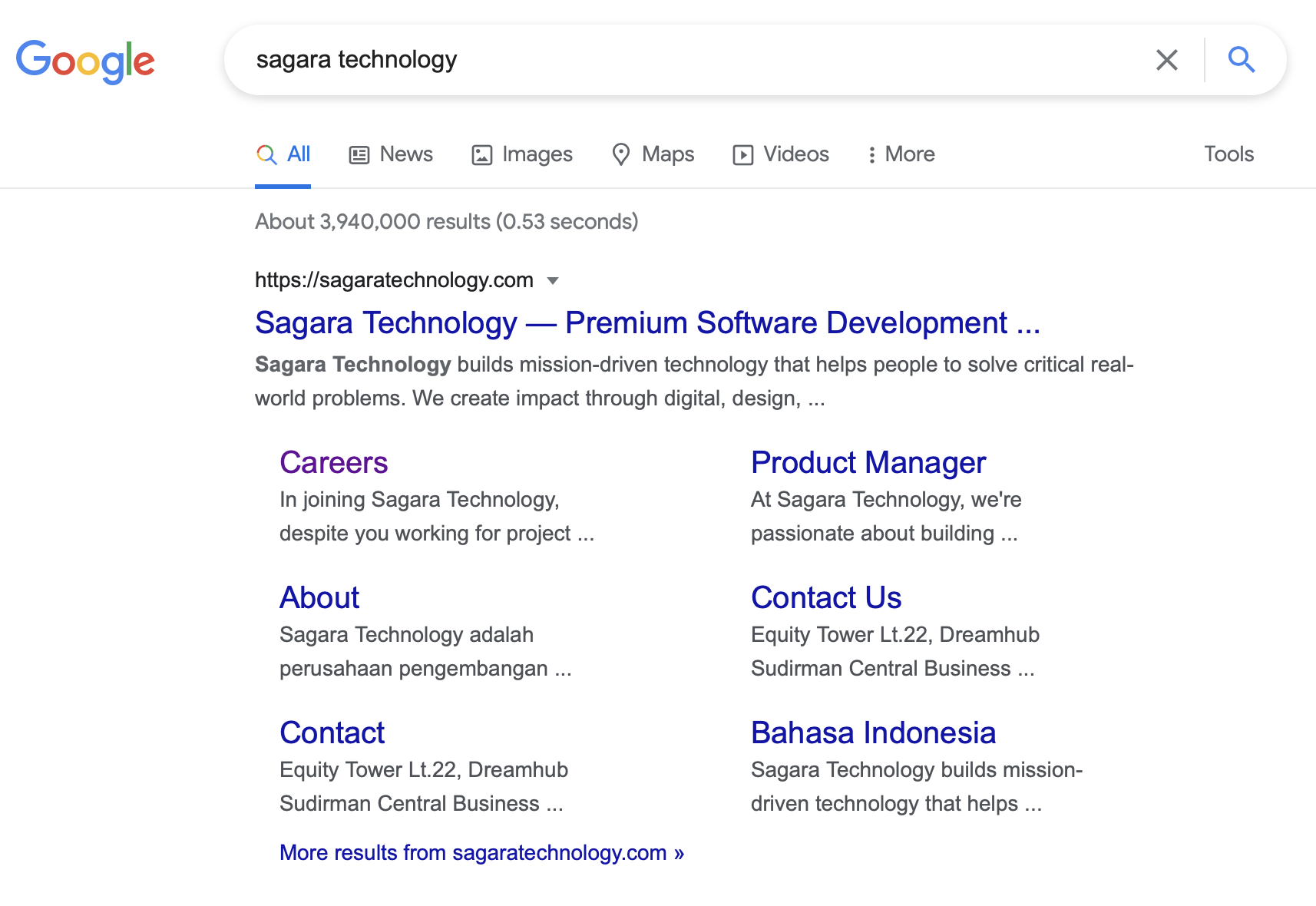 Ease from Crawling
A good website structure can not only help users find the content they need. But it also helps web crawlers to access and find relationships between the content you create. From there, it will be easier for web crawlers to index your content in search engines.
Avoiding Content Competition from the Same Website
The structure of the website prevents you from the possibility of competing content (cannibal content). This kind of competition is very detrimental because it reduces the traffic that each content gets.
The competition in question may occur when you have several similar blog post content. there is content using some of the same keywords for that content.
Such similar content makes it difficult for Google to decide which content is most important. As a result, your content is competing with each other to be in the top position of Google.
You must create a good taxonomy structure and internal links. So the content is more clearly related and does not compete with each other.
How to Create an SEO Friendly Website Structure?
Plan ahead
Try writing down all the content ideas you want to include on your website. Then, group all of that content into more general categories. Then arrange them all so that they are interconnected.
For example, you want to use a hierarchical structure. You just sort the content to form a pyramid.
Pay attention to the page links on the homepage
The homepage is at the top of the website structure. That means, the homepage becomes the first page that visitors access before going to other pages.
That's why you need to link some of the most important page links to the homepage. That way, the chances of visitors opening important pages are greater. They will also find information more easily.
Create Clear Navigation
To have a well-structured homepage, you need to create clear navigation. There are two types of navigation that you can add to your website, namely menus and breadcrumbs.
Use Taxonomy
To make your navigation more organized, try using the existing taxonomies system in WordPress or other CMS. Taxonomies are used to group content by category or tag. So, visitors can more easily find other articles on the same topic.
Don't Forget Internal Links!
Maybe you have started to understand that website structure relates to content categorization and links to related content. Therefore, now is the time to learn how to use internal links.
Internal linking is a term for linking content on your website. This internal link cannot be done arbitrarily. The two linked pages must have related topics.
Manage Your Website Structure
A content audit means if you have an article that is out of date, you should update it and then republish it. For example, there are articles that have never been visited, you might consider deleting them.
But remember, don't carelessly delete pages or articles! Because, if Google can't find the page because it's been deleted, then your user will get a 404 error page. If that's the case, the SEO of the website will be bad.
To prevent that from happening, you need to redirect the URL of the page that you deleted. By redirecting the page, instead of finding a 404 error page, your users will find another relevant page.