Get To know with Santara and Sagara Technology
Sagara Technology with Santara doing a live talk show about FinTech discussion at Sagara x Leaders through Instagram Social Media. The interviewer this time is Mutiara as a Digital Marketing from Sagara Technology and RM Iskandar Zulkarnaen as a CTO from Santara.
Santara as a fundraising Service for investment stock micro business, beginning from the founders having a background about entrepreneurship and performer micro business.
Started from the performer micro business worried about their stagnant business until can't reach for the biggest level. From the discussion with the performer, especially at Yogyakarta, was found the core of the problem at fintech discussion.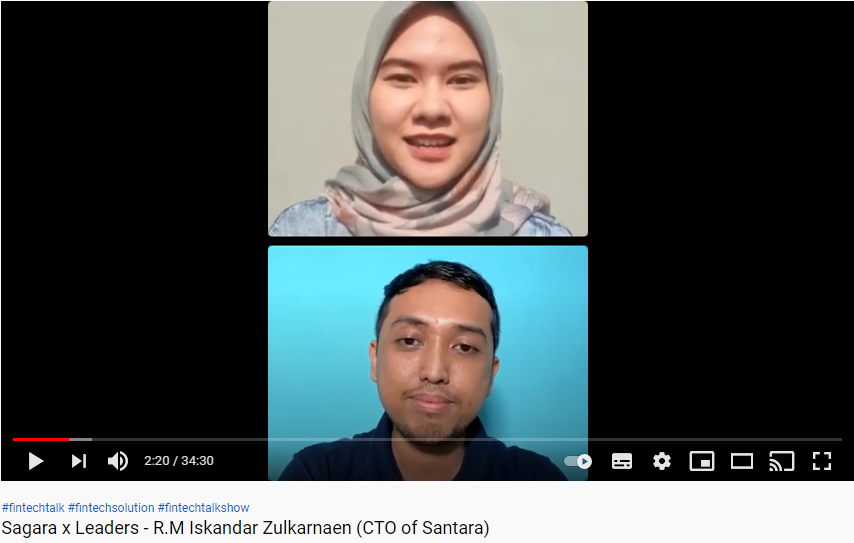 Santara officially founded about 2 years ago at 2018, started did not have a permission from Otoritas Jasa Keuangan (OJK). So many micro businesses interested with Santara, until Santara register their business to Otoritas Jasa Keuangan (OJK) to complete the condition and terms. Now, Santara have been registered at Asosiate Fintech Indonesia, and has been joined with Asosiate Crowdfunding Indonesia.
While about Sagara Technology, roll business is engage in Software, Web Design, UI/UX, and Application Mobile. Other than that, Sagara Technology has some development at Fintech, focusing at Peer to peer lending and Crowdfunding.
Positif and negative Impact about Develop technology
Iskandar says Technology Development has an impact in positive and negative. The positive is to make easier the activities, that previously hard to do. As the example at pandemic make It easier to communicate with other people, online shopping, and easy to get information and else. While the negative impact from the development of technology is the risk. For reduce the risk, technology development is not with awareness of user technology.
When it happened the pandemic, many business ventures got the impact pandemic, like closing customer, lack of venture capital, etc.
Santara and Sagara Technology not closing a possible collaboration for the future. Sagara has been tested in its field at software, mobile application, and other technical readiness could develop a software application for the micro business or Startup who get investor from Santara now and the future because the existing effort can not separate from Digital Industry.
Tips to Maintain The Business
Iskandar giving a tips for maintain business that is making customer pleased, search for user requirements, listening the feedback, and take action as needed.
And Iskandar predict startup trend in 2021 that is Security Crowd Funding (SCF). It is also predict that there will be other funding service models. Santara hoping will be Digital Transformation for business venture that are still controversial.
Iskandar also advised that the current technological developments must be balance by its users. "we should notice the impact from the technology, for example, the strength and weakness", said Iskandar.