Here's the introduction to Customer Relationship Management (CRM). CRM is an approach to manage a company's interaction with current and potential customers. CRM uses data analysis about customers' history to improve business relationships. Specifically, it focusing on customer retention and ultimately driving sales growth. One important aspect of the CRM is the systems of CRM that compile data from a range of different communication channels, including a company's website, telephone, email, live chat, marketing materials and more recently, social media.
Definition
In definition, Customer Relationship Management (CRM) is the combination of practices, strategies and technologies that companies use to manage and analyze customer interactions and data throughout the customer lifecycle, with the goal of improving customer service relationships and assisting in customer retention and driving sales growth. CRM systems compile customer data across different channels, or points of contact between the customer and the company, which could include the company's website, telephone, live chat, direct mail, marketing materials and social media. Also, CRM systems can give customer-facing staff detail information on customers' personal information, purchase history, buying preferences and concerns.
Evolution of CRM
Let's see the evolution of CRM. Business people started using the term Customer Relationship Management (CRM) since the early 1990s when the concept of business started to change from being transactional to relational. CRM directly contributes towards customer benefits and the growth of businesses.
It's no secret that customers and customer satisfaction drive the growth of your organization. Let's take a look at how their CRM journey has progressed from being a mere necessity for data entry to becoming a boon for their business.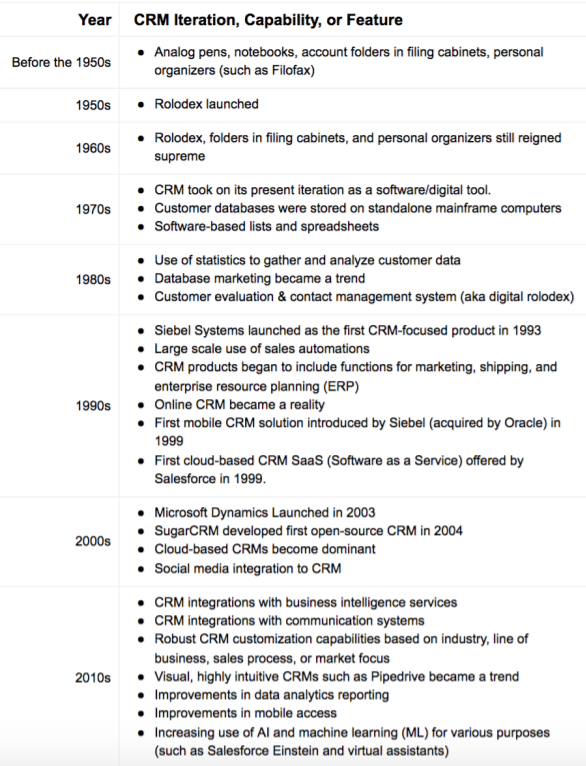 1950s
At that time, businesses recorded their day-to-day tasks on pen and paper. Later in the year 1956, the first rolling index or Rolodex was invented to store contact information of business prospects.
1960s
Most businesses reached out to their customers by scheduling on-ground meetings. Sales executives would sell products either by engaging with people in one-on-one sessions or cold calling.
1970s
In 1970s, database marketing enabled businesses to customize communications to their customers with targeted messages and monitor business relationships as they progressed, on a screen. In this era, CRM took on its presents iteration as a software/digital tool.
1980s
In the year 1987, a digital version of the Rolodex called ACT! by Conductor Software launched. It had a contact management tool built-in and paved the way for Content Management Systems or CMS prototypes to be developed. ACT! earlier known as Activity Control Technology and later renamed as Automated Contact Tracking before settling on the acronym.
1990s
In 1990, Database marketing has expand its set of features like tracking and analyzing customer data while allowing trivial tasks to be automatic, transforming itself into Sales Force Automation (SFA). In 1993, Tom Siebel left Oracle and founded Siebel Systems. His company took the lead and became the most popular SFA provider at that time. In 1999, Tom's company released the first mobile CRM called Siebel Sales Handheld into the market. It was also the year that SalesForce launched the first cloud-based CRM as an affordable alternative to on-premise CRM.
2000s
Around 200s, thankfully, Paul Greenberg's book titled 'CRM at the Speed of Light' managed to shift the conversation to a more coherent CRM system as a solution. Shortly after the launcs of first-ever open-source CRM by SugarCRM in 2004, Vtiger also launched an open-source CRM in the same year.
2010s – Modern CRM Systems
After 2000s, in 2010s, CRM solutions are now fully equipped to manage sales pipelines and deliver outstanding customer experiences for small businesses, mid-size enterprises, and large multinational corporations. Modern CRM tools can project pragmatic sales forecasts for every quarter and can be integrate with social media platforms.
Need and Importance for Customer Relationship Management
Customer Relationship Management leads to satisfied customers and eventually higher
business everytime.
Goes a long way in retaining existing customers.
Can ensures customers return back home with a smile.
Improves the relationship between the organization
and customers. Such activities strengthen the bond between the sales representatives and
customers.
Future of CRM
CRM is now among the fastest-growing sector in Software as a Service(SaaS) space. With each innovation, CRM systems are moving the needle towards customer satisfaction. in the future, breakthrough technologies such as Artificial Intelligence and Machine Learning will help your sales team shift their focus from identifying prospects and pushing products to care for the customer. It's only a matter of time before the barriers between your sales, marketing, and support teams entirely breakaway to provide a holistic roadmap for your business growth. More Here