The development of online businesses in the digital is increasingly complex with all kinds of supporting device needs. One of them is the need for a fast website that is useful for boosting marketing and increasing business sales. To accommodate this, cloud hosting services are the latest innovations that can improve website performance and the ability to accommodate high traffic.
Get To Know Cloud Hosting
Cloud hosting is a technology that aims to maintain website performance by combining several servers to run like one whole server. Cloud hosting uses multiple servers to balance the load (load) and maximizes server working hours (uptime). Simply put, cloud hosting was created so that users can store data virtually by using many servers that are connected to each other.
Pros of Cloud Hosting
Knowing what cloud hosting is, of course, you could say that this technology is equivalent to a Virtual Private Server (VPS). However, how to use a VPS tends to be more complicated and difficult, so people are afraid to use it. Meanwhile, cloud hosting, which has the flexibility of dedicated resources, can certainly accommodate thousands of traffic at one time and is easier to manage with Fully Managed services.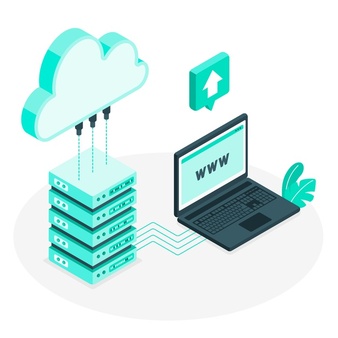 In addition, there are other advantages why you need cloud hosting for a business website, including :
Can Acommodate Large Traffic
It should be noted that the cluster technology in cloud hosting is well prepared to deal with a massive increase in traffic on websites. This is because the system's backup resources will share the server load when there is an overload on one of the servers due to access to thousands or even millions of people simultaneously.
High Performance and Safe
Cloud hosting services are equipped with various superior features that can help you build a reliable website. In addition, developers can also easily add resources when traffic is high and reduce them when traffic starts to return to normal. In other words, the website is faster, more flexible, and easier to customize.
Cloud Hosting Makes Business Better
Cloud hosting technology is certainly developed with the aim of making your website better and making your business more successful in the future. This technology can be applied to all types of business websites, including Online Stores, High-traffic blogs, Project Websites, Company Websites, or News Portals. These websites both have a very high amount of traffic. So to maintain its performance, it can be overcome with a cloud hosting service that can minimize the possibility of server downtime. And what is clear, this type of hosting is relatively safer, especially when compared to shared hosting. Cloud hosting will help secure your online store and company website in the future.