Have you ever seen a lightning bolt on the Google search engine?, it's not just a logo, it's a sign that your website has used Google Amp. find out what is Amp in the article below.
What is Google AMP?
Google AMP (Accelerated Mobile Pages) is a technology that was created so that the pages of a website open faster on mobile devices. However, not all pages can use this Google AMP.
It can only be used on pages that contain static content, such as news or articles only. So, Google AMP is perfect if your website is a news website or an article website.
You could say, GoogleAMP is similar to Facebook Instant Articles. The most striking difference is the platform used. Facebook Instant Articles uses the Facebook platform, while GoogleAMP uses the Google search engine.
Websites that already use GoogleAMP will be marked with a lightning bolt in Google search results on mobile devices.
Google AMP works by utilizing three components, AMPHTML, AMPJavaScript, and AMPCache. These three components work together to optimize website pages to load faster on mobile devices.
These three components turn off website elements that can slow down page loading time. . In addition, they also implement steps to speed up the website automatically. Such as compressing inline CSS, sandboxing iFrame, and many others.
The appearance of the Google AMP page looks simple and minimalist. In effect, the page becomes light and fast to be accessed by mobile devices.
Google's AMP is concerned with getting information to visitors quickly rather than an unsightly appearance.
Advantages
Free – can be used by anyone at no cost
Mobile-friendly- makes your website load faster on mobile devices, even with slow internet.
Helps SEO – Fast loading on mobile devices will help your SEO
Improve user experience – Visitors get what they want quickly, leaving them satisfied.
Automatically optimize images – automatically optimizes various elements of your website, including images.
Lighten server load – because GoogleAMP data will be stored in it Cache.
Disadvantages
Minimalist look – automatically disables elements that slow down your website – such as plugins, themes, widgets, and more – so your content will look minimalistic.
Many plugins and widgets don't work in AMP – Because plugins and widgets can slow down load time, Google'sAMP disables them.
Many of the JavaScript set by website owners don't run in AMP – JavaScript that has the potential to slow down load times will be disabled.
Possibility of removing some ads on the page – Not all ads support GoogleAMP.
How to Install AMP Plugin in WordPress
How to use Google AMP in WordPress simply by installing a plugin. There are two WordPress plugins that you can use
Using the Official Plugin
The first Google AMP WordPress plugin is AMP which you can download here. This plugin is the official Google AMP plugin for WordPress. How to install the Google AMP plugin is also the same as how to install WordPress plugins in general.

After the installation is complete, just activate the plugin and AMP will automatically run on your website.
You can also adjust the appearance of the AMP page through the Appearance > menu. However, the display settings here are very limited where you can only change the color.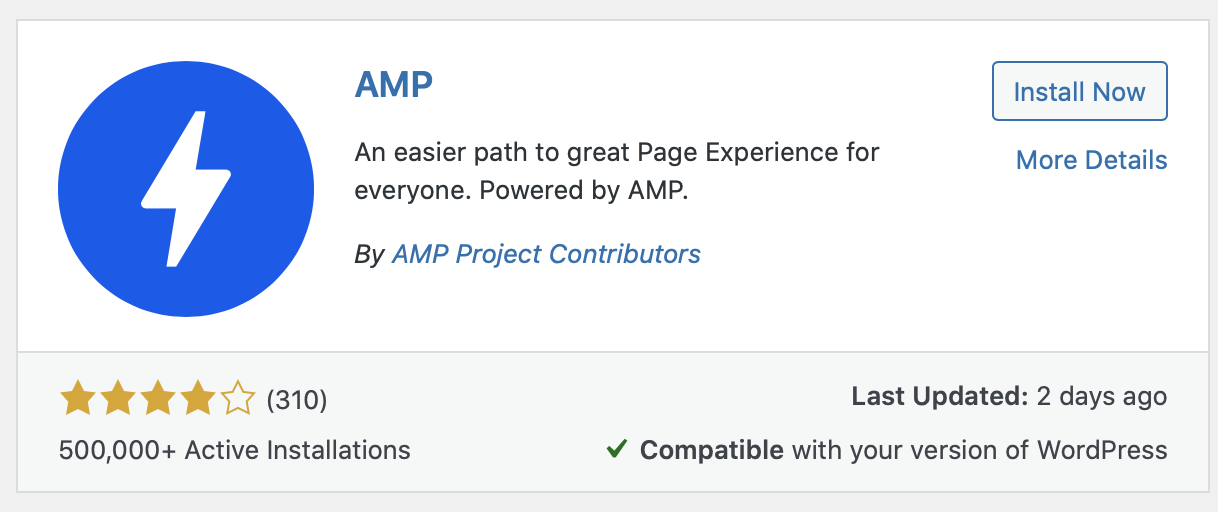 Using the AMP Plugin for WP
The second Google AMP WordPress plugin is called AMP for WP which you can download here. This plugin can be an alternative because it is more feature rich than the official version. Such as more complete display customization options, being able to use analytics other than Google Analytics, and many others.
You can install the AMP for WP plugin like a regular WordPress plugin. the advantage is that you can fill it as needed.