Jakarta – AI in Smart City has been a thing for a while. Regarding to that, the Sagara Technology team had the opportunity to hold a talk show entitled Sagara x Leader with an important figure, namely Yudhistira Nugraha.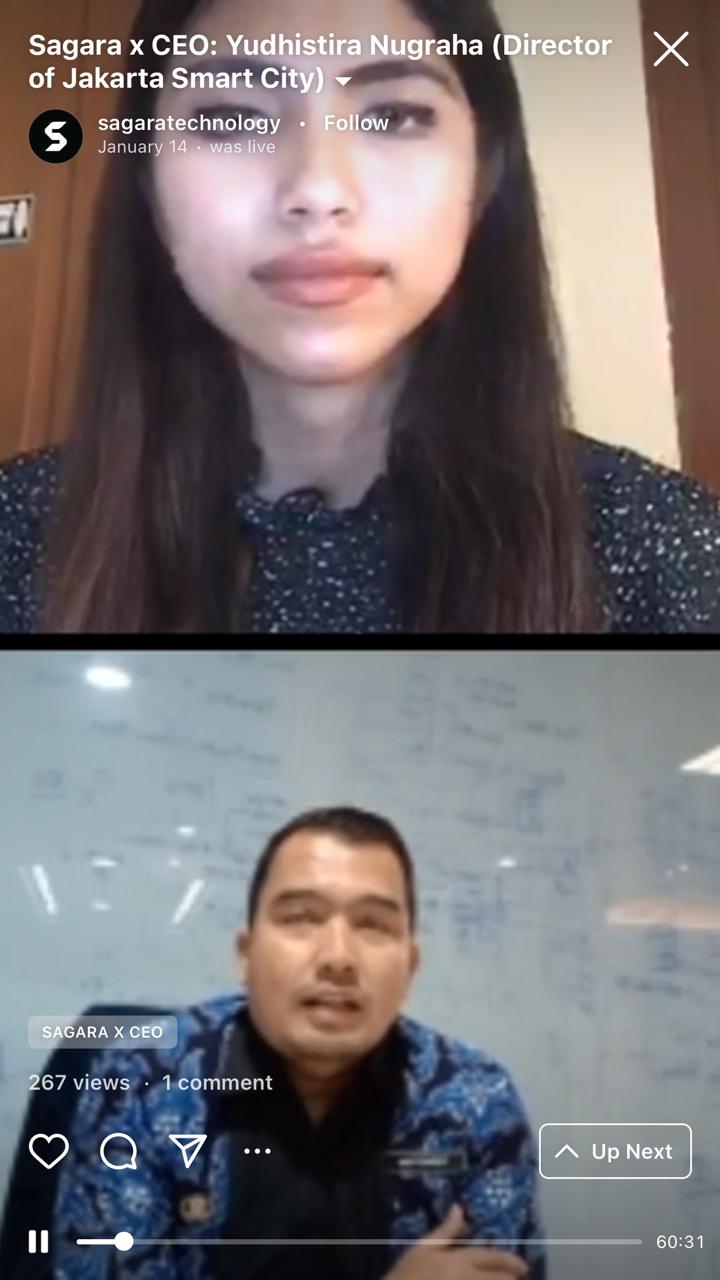 He has completed his doctoral studies at the University of Oxford, and now he plays an important role in contributing to building the implementation of Artificial Intelligence in Jakarta with an institution, namely Badan Layanan Umum Daerah Jakarta Smart City.
Jakarta Smart City
In order to deliver the public complaints, Jakarta Smart City provide reports in the form of public complaints to the government. Over time, the concept of "Smart City" focused not only on technology and a command center. However, the essence of a smart city is how to build an ecosystem. To carry out ecosystem development, it must be done with the concept of smart city 4.0 which began in 2015, this concept is tailored to the needs of the community with a design thinking approach and a system thinking. Smart cities talk about 3 goal values, namely quality of life, economic growth, and sustainability.
The ecosystem in the smart city concept does not only rely on the government but there must be collaboration in good participation with the public regarding awareness of the problems in Jakarta.
Smart City is not only about technology but about a good collaborative ecosystem between the government and the community. However, technology is also a component to help effectiveness in the development of smart cities. Innovation and happiness for the community. However, the concept that is mean by innovation is a concept that must cover 4 things, namely; Unique, Useful, effective, and scalability.
Innovative can continue to adapt to solving problems in Jakarta. The following are areas of innovation Jakarta Smart City have been and are currently doing:
1. Jakarta Smart City Institutional innovation
Since 2020 Jakarta Smart City has changed its status from a Unit Pelaksanaan Teknis (UP) to a Badan Layanan Umum Daerah (BLUD), meaning that there is institutional innovation. When he became a Badan Layanan Umum Daerah (BLUD), Jakarta Smart City had the flexibility to work with anyone who could create an ecosystem in Jakarta. Second, as a BLUD Jakarta, Smart City has flexibility in terms of statehood.
2. The Regulatory innovation
The regulatory innovation that is being implemented is AI. From this innovation, we must look at the cases that need to be implemented. Furthermore, how can this AI concept be channel and carry out to the regions? So, this regulatory innovation is important to encourage the use of AI in helping to increase efficiency in terms of public services.
3. Innovation funding in Jakarta Smart City
This innovation is very important because to build the Smart City concept does not only depend on the APBD but there must be creative financing innovation with the KPBU scheme and this is a new scheme that is still learning to be a good implementation.
Then when talking about smart cities, technological innovation also has an important role as an example of Artificial Intelligence (AI). The existence of AI in Smart City can help problems in society. For example, in China, some cameras can reconcile people and can help the government in detecting crime. And Jakarta has also implemented AI in detecting violations of 3M regulations during a pandemic. Therefore, AI can be a momentum of the development of smart cities.