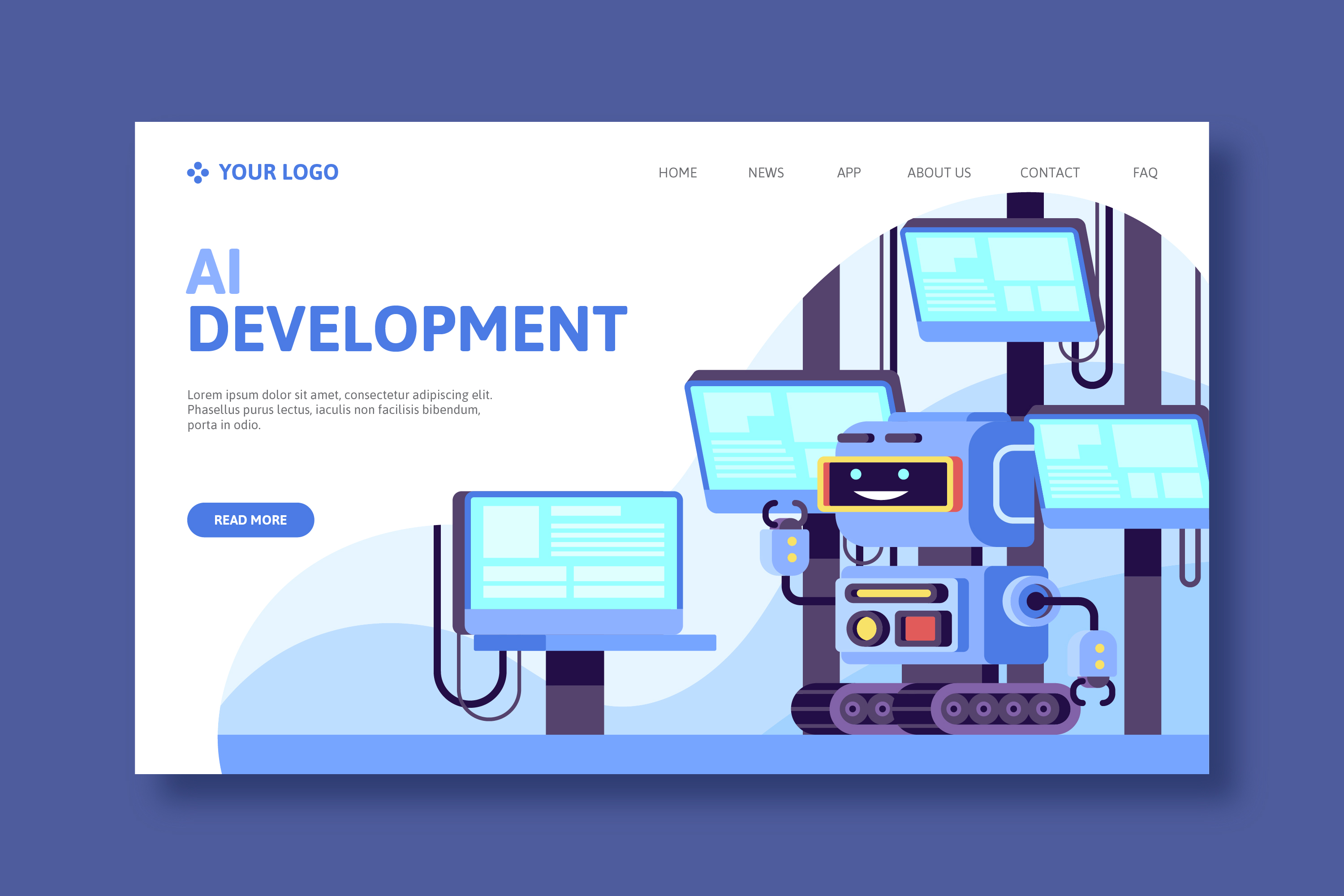 In the landscape of web development, Artificial Intelligence (AI) has emerged as a transformative force. By integrating AI into web development process, developers can streamline workflows, enhance user experiences, and drive innovation. This article explores how AI is being utilized of web development :
1. Artificial Intelligence (AI) for Automating Web Development
One of the significant benefits of incorporating AI into web development is its ability to automate repetitive tasks. AI-powered tools, such as code generators and template engines, can accelerate the development process by automatically generating code snippets, layouts, and even entire websites. This automation reduces the time and effort required for mundane coding tasks, allowing developers to focus on more creative and complex aspects of web development.
Additionally, AI can assist in tasks like bug detection and also troubleshooting. Machine learning algorithms can analyze code patterns and identify potential bugs or vulnerabilities on web, improving the overall quality and security of web applications. Automated testing frameworks leveraging AI can also simulate user interactions, detect performance bottlenecks, and provide valuable insights for optimization.
2. Intelligent Data Management
AI also empowers back-end developers in web development to handle and process data more efficiently. With the volume and complexity of data increasing, AI algorithms offer advanced data management solutions. For instance, AI-based data integration tools can seamlessly connect and unify data from various sources, simplifying the integration process and enabling efficient data processing. Moreover, AI facilitates intelligent data indexing and search capabilities. Natural Language Processing (NLP) algorithms enable developers to build intelligent search functionalities, making data retrieval faster and more accurate. AI algorithms can understand context, perform entity recognition, and deliver relevant search results based on user queries.
AI also plays a crucial role in data analytics. By employing ML algorithms, back-end developers can extract valuable insights from large datasets, enabling predictive analytics, anomaly detection, and trend analysis. These insights assist in making informed business decisions, optimizing system performance, and enhancing user experiences.
3. Enhanced User Experiences Using Artificial Intelligence (AI)
AI empowers web developers especially front-end developers to create highly personalized and engaging user experiences. By analyzing user data, preferences, behavior, AI algorithms can dynamically adapt and personalize web content in real-time. For instance, recommendation systems utilize AI to suggest relevant products or content based on a user's browsing history, preferences, and patterns that provide personalized recommendations. This level of personalization enhances user engagement, drives conversion rates, and boosts customer satisfaction.
Furthermore, AI-powered chatbots and virtual assistants have revolutionized customer support on websites. Natural Language Processing (NLP) algorithms enable these AI agents to understand user queries, provide instant responses, and even perform complex tasks like placing orders or booking appointments. By incorporating AI chatbots, businesses can deliver round-the-clock support, improve customer satisfaction, and reduce operational costs.
4. Intelligent Design Automation Using Artificial Intelligence (AI)
AI brings automation to the forefront of front-end development, enabling designers and developers to streamline their workflow. AI-powered design tools can generate layouts, color schemes, and typography choices based on user preferences and industry best practices. These tools utilize machine learning algorithms to analyze large design databases and extract patterns, empowering front-end developers to create visually stunning websites more efficiently. Moreover, AI can assist in automating the responsive design process. By analyzing screen sizes, device capabilities, and user behavior, AI algorithms can automatically adapt web layouts, ensuring a consistent and optimized user experience across various devices.
Also read about: How Artificial Intelligence (AI) Used in IT Outsourcing
5. Enhanced Security and Fraud Detection in Web Development
AI contributes to bolstering security measures in back-end development. AI algorithms can analyze network traffic, detect some anomalies, and identify potential security breaches in real-time. By leveraging AI-powered intrusion detection systems, web developer especially back-end developers, can proactively mitigate security risks and protect sensitive data. Additionally, AI-based fraud detection systems provide an extra layer of security for web applications. By analyzing user behavior patterns and transactional data, AI algorithms can identify fraudulent activities and trigger alerts, preventing potential financial losses and protecting user trust.
6. Optimization and Performance in Web Development
AI algorithms can greatly enhance website optimization and performance. By analyzing user behavior and patterns, AI can optimize website layouts, navigation structures, and content placement to improve user engagement and conversion rates. AI can identify and highlight high-impact areas for improvement, such as page load times, reducing bounce rates, image compression, code minification, resource caching, and increasing overall website performance. By understanding user preferences, device capabilities, and network conditions, AI optimizes the delivery of content, resulting in improved loading speeds and reduced bounce rates.
AI-powered algorithms can also predict user preferences, allowing for intelligent content caching and prefetching, which results in faster loading times. These algorithms analyze various factors, including user location, device capabilities, and browsing history to provide a personalized and optimized browsing experience.
Additionally, AI can aid in search engine optimization (SEO) by analyzing search patterns, identifying keywords, and optimizing content accordingly. AI algorithms can suggest relevant keywords, generate meta tags, and provide recommendations for optimizing website content to improve search engine rankings.
Conclusion
For front-end web developer, artificial Intelligence is revolutionizing by automating design tasks, enhancing user interfaces, and optimizing performance. By leveraging AI-powered tools and algorithms, front-end developers can create visually stunning websites, deliver personalized user experiences, and optimize performance for various devices and user scenarios.
For back-end web developer, through automated task execution, intelligent data management, and enhanced security measures, back-end developers can leverage AI to streamline development workflows, optimize data handling, and build robust and secure web applications.
So, to answer the title of this article, yes you can use AI for your web development process. Artificial Intelligence has become an indispensable tool in web development, from automating repetitive tasks to revolutionizing the way websites are created, website performance optimized, and personalized user interactions. AI offers a myriad of opportunities for developers to innovate and deliver cutting-edge web applications. As AI technologies continue to advance, we can expect even more sophisticated applications, empowering developers to create intelligent, adaptive, and user-centric web experiences that drive business success that meet the demands of today's digital world.
Read more about : Application of AI in the Healthcare Industry