Jakarta – This time, Sagara Technology and Leaders held a live talk show via Intagram namely Sagara X Leader. Live with the theme "Fintech Encourages the Growth of Indonesia's Economic Ecosystem". The speakers this time are Timotius Rinaldo as CTO of Koinworks and Joshua A Dharmawan as Co-Founder of Espay.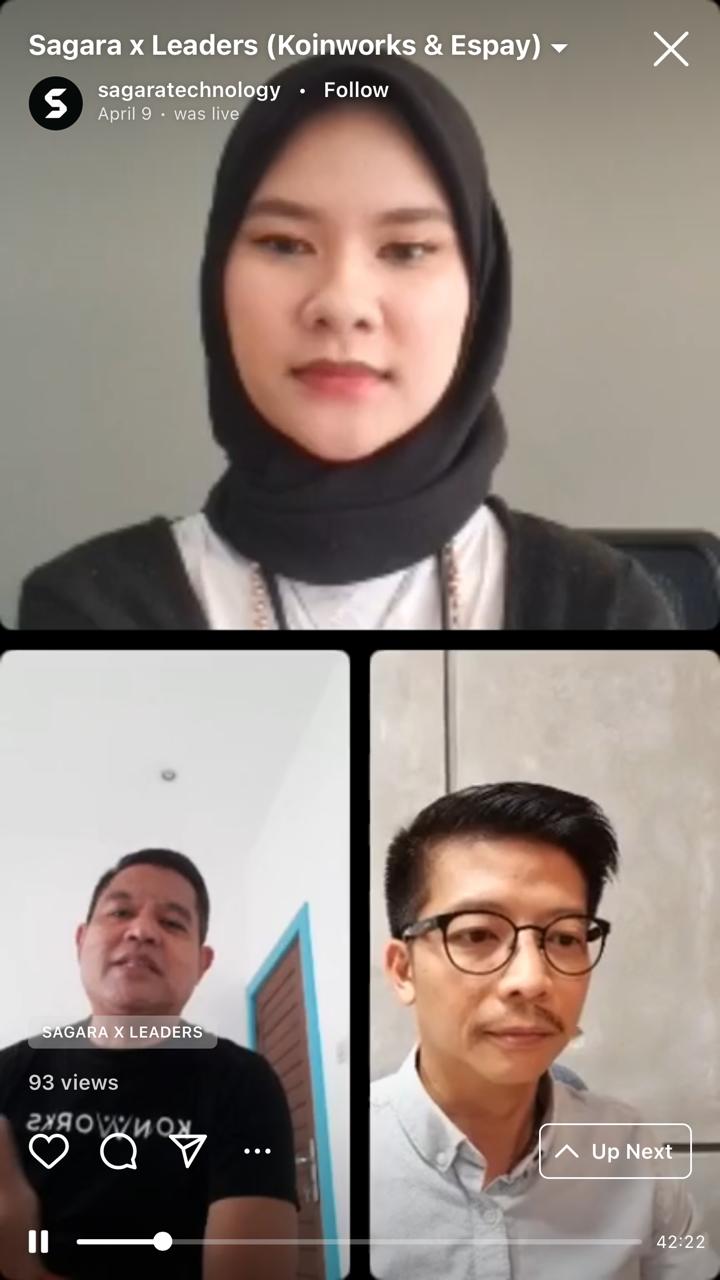 KoinWorks
Koinworks is a brand of PT Lunaria Annua Teknologi, which is a money lending service provider that based on information technology. Peer to Peer (P2P) Fintech Lending Indonesia which is officially registered with the Financial Services Authority (OJK).
Espay
Espay is a payment platform brand in accordance with its commitment to provide easy payment service solutions for its partners. With the Payment Gateaway system, the party that connects the merchant with the bank/source of funds. So that merchants can accept payments via credit cards, direct payments, electronic money, etc.
Their Opinion on Fintech Encourages in Indonesia's Economy
On the occasion of this talk show, discussing the opinions of each speaker regarding the problem of the Indonesian economy. However, the role of financial technology (fintech) and collaboration with banking, it can encourage the Indonesian people and the Indonesian economy to immediately revive.
The main point to remember with the current economic problems in Indonesia for the fintech sector is the need for education so that the public is more familiar with financial services in Indonesia. In addition, there must be a regulation for fintech to produce digital financial innovations that are responsible, safe, prioritize consumer protection, and have well-managed risks. All of that are needed to ensure the fintech encourages in Indonesia's economic ecosystem is optimized.
Timotius Rinaldo (CTO Koinworks), as someone who is 15 years old in the field of Trading, Finance, and Digital Payment. Koinworks, which is the organizer of Peer to Peer Fintech lending, is currently receiving positive feedback. Which includes education for users and regulations for the authorities. Most of the goals of KoinWorks is also to help hamper the economy and finance of UMKM, especially during the current pandemic.
Meanwhile, Espay is in payment gateway sector, which makes Espay payments is the market and the bank. Also focuses on corporate business and does not only focus on E-commerce. Espay covers corporate and UMKM as well, so Espay's coverage is quite broad.
There are several things to carried out by Koinworks that makes UMKM helped by the existence of Koinworks :
Tries to help provide easy financial access.
Fulfills your seamless and contactless financing needs.
Koinworks provides loans that are conducive to UMKM, supported by complete digital information.
Koinworks also ensures that the funds in Koinworks remain safe because, for OJK and Bank Indonesia always directly monitoring them.
Their Roles
As a fintech industry with encouragement from BI & OJK, Espay's fintech encourages in Indonesia's economy is manifested in its role as a Payment Gateaway. Espay runs it with a hope of how Espay can make Indonesians smart in managing finances and business. "If you look at a glance. The population of using accounts in Indonesia, there are not many people, maybe around 50% have joined the bank. The reasons are many, maybe because it is pretty much complicating, and they don't know much about technology". Joshua's response as Espay's Co-Founder is also someone who has been in the field of Information Systems since 2013. However, according to Espay, the government is actually opening it as wide as possible. So, fintech can contribute but on the other hand fintech also emphasizes the safety of consumers and their personal data.
For Koinworks, their role starts from complying with regulatory regulations by the authorities to ensure usage data, consumer complaints, etc. And with fintech, Koinworks can reach a wider range of people and educating them via the internet. Koinworks also conducts education to increase awareness of Indonesian consumers on all matters related to finance and technology.
Timotius and Joshua also agree that in the future there will be cooperation between the Fintech Industry which specializes in Peer to Peer Lending and Payment Gateaway. Koinworks, "We are a member of Indonesian fintech. So we are sure that in the future there will be such cooperation and this cooperation will help to develop the Indonesian economy". Said Timotius Rinaldo. According to Joshua, such cooperation is necessary. For Espay itself, what can be called cooperation if it is able to use the platform to give development to Indonesian finances. The hope is that the government can make regulations to integrate fintech in Indonesia.
Their Targets of Maximizing Fintech Encourages in Indonesia's Economy
Koinworks provides several points that must be treat as a form of the impact of this pandemic. Even though Koinworks feels that their capital is sufficient and safe. They are still managing it so that they can effectively and efficiently use them. The first thing to do is to prioritize, through digital programs for marketing etc, then to mitigate risks according to current conditions, also to tighten the credit process. Then to expand such as conducting interviews via video calls or zoom meetings and establishing cooperation with UMKM through digital.
Koinworks targets to play an active role in helping the government innovate products and technology and expand access for those in need and educate the public about fintech so that the existing knowledge is not interrupted in one large area. Technology must be growing, which becomes a challenge, such as, resources to build the technology itself. Furthermore, there is implementation, not all are easy to implement. And the last is regulation, there are matters related to technology that the competent authority are regulating.
Espay targets that in the next 1-2 years. There will be efforts to collaborate with the government and entrust it to Bank Indonesia and OJK to provide new innovations. So Espay will fully support. Espay, technological developments are multiplicative as all handphone today have GPS and other advanced features and when technology gets more sophisticated, technology can detect the presence in a certain place. With that being said, Espay's fintech encourages in Indonesia's economy are yet to be done.
For Sagara Technology itself to advance technology, Sagara is engage in software development, such as website development, mobile development, etc. Sagara can provide solutions for data security and data security for business companies. Sagara also hopes that in the future Sagara can collaborate again with Koinworks and Espay.